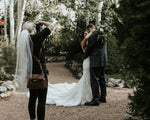 Wedding day photography is one of the most important factors of the day for most of our brides. It's a huge investment and the main way look back on your wedding! After watching hundreds of weddings and working with a variety of wedding photographers we've put together our top six tips for making your relationship with your photographer successful! 
Do an engagement session
Not only is it fun to have photos from this season of life, but an engagement session lets you get to know your photographer. Pick a fun location – your favorite date spot, a hike with a view or even around your house! You may be surprised how quickly you become comfortable with them, making your wedding run smoother and feel less stressful!
Have a detailed timeline and try to stick to it
Sharing a detailed timeline with all of your vendors helps everyone know where to be and when. Make sure you schedule in some extra time for traveling from location to location and account for things that may take longer than you expect (hair and makeup!) Your photographer will love you if you give them plenty of time to get detail shots, getting ready photos with your bridesmaids and an extended period of time with just you and your husband.
Kindly ask your guests to refrain from taking photos
Have you seen the wedding photo of the bride and groom, just married, walking back up the aisle? And then that same photo with a hundred iphones hanging over the aisle, blocking their faces? No one wants that. Ask your guests with a cute sign or a note in your program to kindly refrain from taking photos during the ceremony.
Communicate with family members and bridal party
Doing family photos before the ceremony? Or directly after? Do you need the bridal party around for a photo op on the dance floor? Make sure you communicate the places and times people should be there. This will save everyone's time and eliminate the stress of your photographer running around looking for people.
Allow a few minutes during "golden hour" for photos
Lighting for outdoor portraits is best about an hour before sunset. Try to carve out some time to sneak away with your new husband and your photographer to get a few photos. Trust us, you'll be glad you did!
Plan a photoshoot for after the wedding
Who says you only get to wear your dress once?! We are loving the trend of day-after wedding photos! It's a great excuse to get dressed up again and go to a beautiful location for a few more photos! If you think you may want an additional photo session ask your photographer about their different packages, often times they can add it to your desired package for a reasonable cost.
Photos from one of favorite photographers, Redden Wood.