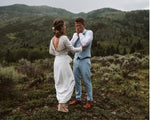 So you have your dress, the venue and all your major vendors and now it's time to get down to the details of our wedding day. One of the many questions you may be asking yourself is "should we do a wedding day first look?" We've rounded up a quick list of Pros and Cons to help you answer that question! 
The Pros of a First Look:

 
A lot of bride's most obvious reason for a first look is timing. If your cocktail hour is short, if you have a lot of family photos to take or if you are going to be fighting with the sunlight a first look helps you fit in all the photos you'd like to have. It can be helpful to write out a list of all the photos you would like then sit down with your photographer to talk about how much time it will take. From there, factor in the ceremony time and when the sun goes down to make sure you have enough time for everything.
Some brides and grooms appreciate a private moment with one another before they are standing in front of all their family and friends. Having a first look allows you to exchange personal vows, exchange gifts or just spend some time together before the craziness of the day begins. 
Plain and simple, seeing your future husband before the ceremony can help calm your nerves. If you've spent all morning anticipating the ceremony, spending a few moments with your fiancé can help settle you down and remind you what today is all about! 
The Cons of a First Look:

 
Tradition instructs a bride to not see her future husband until she is walking down the aisle. If you are a traditionalist at heart this may be reason enough to not do a first look. If you feel strongly about that dont let your photographer or anyone else pressure you into it! 
I think everyone can agree that there is nothing like a groom seeing his bride walk down the aisle. His reaction, her reaction, the build up anticipation of the moment is simply magic. Avoiding the first look amplifies this moment for the bride, the groom and everyone in attendance. 
Are you wanting to steer clear of a First Look but are also worried about timing? Consider booking your photographer for a day-after photoshoot. This will allow you to have plenty of time on your wedding day while setting aside a special, unrushed time to take photos with your new husband! 
Here's some of our favorite First Looks, "Almost" First Looks and Bridesmaid First Looks we've seen this year!