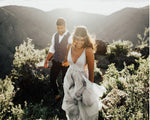 It's that time of year again.... Leanne Marshall's  2019 collection is coming to our studio and you do not want to miss it!! Her gowns are always so stunning and her new collection is no exception. If you're a 2019 bride looking for
impeccable fit, flattering silhouettes and an ethereal yet elegant gown you do not want to miss this weekend! All Leanne Marshall gowns purchased during the trunk show will be 10% off! Book an appointment below or call 720-383-8091.
Take a look at some of our favorite Leanne Marshall gowns from this past year!