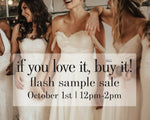 So the search is on for your wedding dress. You have something in mind, you've tried a few dresses on and nothing has jumped out at you. You're also a girl who loves a good sale and is so satisfied seeing that giant red slash through a price tag. If you could find the ultimate dress AND get a discount you'd be set.
Sound like you? Then the Emma & Grace Sample Sale is the place to be this Sunday from 12-2! Find out more about the Sample Sale here!
Keep scrolling for 5 Sample Sale FAQS to help you find Sample Sale success! 
What is a sample dress?
A sample gown is a gown that has been tried on by brides in our studio. These dresses have not been worn outside of our studio, and many are in great condition! Sample sale gowns are sold as is.
What sizes are the samples? 
A majority of our sample sizes range from size 6-12. Keep in mind that bridal sizes are different than street sizes dependent on style and designer. Sample gowns can typically be taken down 2-3 dress sizes!
Do the sample prices including cleaning or alterations? 
Cleaning and alterations are not included in the price of the dress. If you need a suggestion on where to take your dress to get clean or altered we have a couple wonderful recommendations!
Can I hold a sample dress to think about it overnight? 
Unfortunately, we CANNOT hold sample sale dresses. First come, first serve!
If I haven't tried on dresses before, is a sample sale a good place to start? 
Sample sales are typically harder if you have never tried on dresses before.  Sample sales are fun, but can be overwhelming if you do not know what you are looking for!