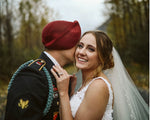 We have a special spot in our hearts for this next bride, our Grace Gives recipient for 2017: Shelby Shores.
We truly believe it's a privilege and an honor to be a part of a woman's most special day of her life by helping her find her wedding dress. To show our thanks, we give back every year through Grace Gives, where we honor a particular bride who has spent her time giving back to our community or to those around the world.
We awarded a dress and alterations to Shelby last year because she is truly a woman who puts others before herself and chooses to give when she isn't asked or expected to.
Shelby's now husband, Aaron, came home from a 9-month deployment from Afghanistan shortly before their July wedding. While her fiance was away, Shelby kept her positivity and took everything in stride. "She is one of the nicest people you will ever meet and takes care of anyone and everyone," says a close friend. Shelby is the person that both her friends and family turn to for advice, and it was a clear decision that she be chosen as the recipient of a dress for her wedding day. Shelby and her husband now live in Alaska where he is currently stationed.
Congratulations, Shelby!