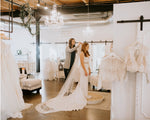 So, you've spent all day shopping with family and friends scouring racks of pristinely white wedding dresses. Dress after dress goes by with details on each that you like and don't like, but each bringing you slightly closer to how you envisioned yourself on your wedding day. All of a sudden your stylist puts you in a dress that leaves you speechless. Your friends are gushing, your mom is crying, and the stylist puts a veil on you...could this be the one?
We've come up with four questions to ask yourself before saying yes, and what you should know before choosing your wedding dress! 
Does the Dress Fit with How You Imagined Yourself on the Big Day?
It's okay if the answer is no to this question. Sometimes, you imagine yourself in a specific silhouette, and as you spend the day shopping you realize that what you thought you liked is actually not the case anymore. But, a better question is, how does the dress make you feel? Do you not want to take it off? Can you not stop looking in the mirror? Then that's your answer.
Does the Input of Others Matter?
Everyone loves the dress but your one friend you brought with you; does this change your decision? Your wedding dress is a reflection of you and how you want to feel on your wedding day. If you love the dress on you so much that it doesn't matter what other people think, this is the dress for you.
Are You Comfortable?
Can you walk around easily, sit down comfortably, and most importantly, dance?! You want your wedding dress to be all of these things since you'll be in it most of the day and taking pictures. If you're feeling comfort in the dress, you'll feel the same with your decision to say yes.
Do You Think Anything Could be Better?
It really is okay to fall in love with the first wedding dress you put on - it happens all the time! You don't necessarily have to feel like you have to go to every single bridal salon in town before purchasing. If you're in love, you can't help it. Buy the gown and spend the rest of the afternoon celebrating with your friends!
Photography: Justyna E Butler Photography