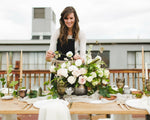 Finding your wedding dress isn't the only important detail for your wedding day. We love the amazing wedding vendors Denver has to offer and value the community we've built with them. Each month we like to introduce you to a vendor we love because, well - we think you'll love them too! 
MEET LIZ.
She's creative. She's adventurous. She's an incredibly talented florist. 
Spend five minutes with Liz from Siloh Floral and you'll feel like you've made a friend for life. She is exactly what you see: creative, adventurous, friendly and funny. With a heart of gold and as real as they come, Liz is one of our favorites to collaborate with as well as refer brides too. Take a look at these photos, r
ead what she has to say
 and you'll see why. 
TELL US A LITTLE ABOUT YOURSELF AND YOUR BUSINESS
My name is Liz and I am began Siloh Floral Artistry in November 2015.  Siloh is based on the word silhouette. A silhouette has shape, texture, and movement that evokes different emotions and meaning for each person. Just as a painting or a sculpture inspires and moves people, I believe floral design is a way to cultivate beauty and art and awaken memory, affection, and wonder.  Also, just as a silhouette is a shadow of a true object, I believe all beauty, art, and design are just shadows of something greater - a truer, richer, fuller beauty. The hope of Siloh Floral Artistry is that people are inspired and moved to dream just a bit more.
A little about me personally - I have been designing flowers for the last 7 years. I love working with elements that are alive and changing. I love the space that flowers leave for imagination and longing. My soul comes alive when I'm in a Spanish-speaking country or latin dancing. I would rather sit at the bar than a table in a restaurant - that's where all the best conversations happen. There's nothing better for me than a good rack of BBQ ribs or a nice glass of whiskey. 
HOW DID YOU GET STARTED IN FLORALS?
As soon as I graduated from college, I knew that I wanted to find a job where I created with my hands. With no experience whatsoever with flowers, I shamelessly approached a designer and asked if she would give me a job designing flowers. She hired me to start the next day. I learned so much about the world of flowers from her. After working for a few different designers over 5 years, I decided to open my own business and began dreaming up Siloh Floral Artistry.
FAVORITE PART ABOUT YOUR JOB?
The creating is by far the best part - getting to pick different elements and ingredients to go in an arrangement or bouquet and then physically see what I dreamt up in my head come to life. Getting to smell the flowers, touch them, see them dance and play around in different directions and make unique shapes and pathways - there's nothing better in my mind.
FAVORITE COLORADO WEDDING VENUE?
There are so many wonderful venues in Colorado, but I would have to say that I'm a sucker for a private estate wedding.  I love starting with a blank canvas and no rules so that creativity isn't limited. 
FAVORITE PLACE TO TRAVEL?
Spain - I tell people all the time that half of my heart lives in Denver and the other half lives in Spain. Wine, paella, seafood, architecture, art, the language, the people - all the best things in life! 
IF YOU COULD GIVE YOUR BRIDES ONE PIECE OF ADICE WHAT WOULD IT BE?
Trust your vendors - hire people that you believe will do an amazing job and that you trust their style and vision and let them do what they do best. Also, in all the chaos and mess of details, don't forget the reason that you're getting married - because you love your partner and you are choosing to celebrate beginning a life with them. That's the most important detail of your wedding day. 
You can find Liz at www.silohfloral.com and on Instagram @silohfloral