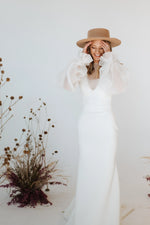 Shopping for a dream wedding dress at
a bridal boutique Denver offers
is a unique and exciting experience that many brides look forward to for months or even years. As you plan your wedding experience, you'll want everything to be just perfect, and that of course includes your wedding dress. Proper research, finding a good bridal salon and getting the right alterations and fittings should all be included as part of your overall experience.
You'll find that there will be many dependable experts who will happily help you out throughout these activities, so you can find the perfect dress.
Before you even start shopping for a wedding dress, you may want to research different styles, fabrics, and designers to get an idea of what you like. You may also want to consider your wedding theme, venue, and the time of year to help you narrow down your options.
Most bridal salons require appointments, so make sure to call ahead and schedule a time that works for you. You may also want to bring along a few family members or friends to help you make your decision. As soon as you arrive at the bridal salon, a consultant will work with you to find dresses that fit your style and budget. You'll have the chance to try on a variety of dresses and narrow down your options until you find the perfect one.
Once you've found your dream wedding dress, you'll need to schedule alterations and fittings to ensure that it fits you perfectly. This may involve multiple appointments and adjustments to ensure that the dress is comfortable and flattering. Additionally, a good bridal salon will be able to recommend pieces that complement your dress and personal style.