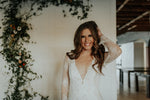 At Emma and Grace our brides are like family. We value every bride's story, and know some of our brides have harder circumstances than others. Because of that each year we do a Grace Gives campaign to uplift and give back to a much deserving bride.
So what is Grace Gives? It is an opportunity for an amazing bride to receive a free wedding dress and alterations from Emma & Grace. We look for someone who is selfless, is constantly giving and taking care of others over herself. Someone who has faced the many challenges of life and is in need of their dream wedding dress. Someone whose story is inspiring and an example of handling life's challenges with love and grace. If you know someone who deserves this gift for their wedding day let us know by submitting their story.
To be considered the bride must have a wedding date in November 2023 or later. Please submit yourself or someone you know that is deserving by emailing us at emmaandgracebridal@gmail.com with the following information. 
Bride's first and last name:
Bride's phone number:
Bride's email address:
Wedding date:
Brides story
Submissions are due by midnight on March 31st, 2023. It must be 600 words or less. We will notify the brides submitted by April 7th. 
If you are submitting for someone else please also provide your name, email and phone number.