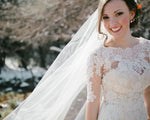 Let's talk about accessories! Just about every bride that walks through our doors has an idea about how they want to complete their wedding day look. Today we have a few tips for you about picking out veils and if veils aren't for you, some tips on accessorizing with headpieces, flower crowns, and more! 
Veils 101
Elbow: At 29 inches long, this is a more simple, no-nonsense length. This is perfect for a dramatic ball gown because it has the perfect amount of simplicity and won't compete with a big dress. Both elbow and fingertip length veils can visually cut you in half making them a good fit for a taller bride.  
Fingertips: This length hits at- you guessed it- your fingertips and is the most common for brides. It allows for a little longer length without covering up the skirt of the dress. This is a great option for a very detailed dress as it won't cover anything up. It's a universally flattering shape and goes with any dress.
Floor length: At 75 inches long, this veil falls just to the floor. The ideal length for a dress without a train. Its adds a romantic element to the look, yet doesn't take away from the dress.
Chapel: Ranging from 95-108 inches, this length leaves just a few inches trailing as a little sweep train. This length is ideal for the bride who wants length without the weight or maintenance of a cathedral veil. This is perfect for a more formal setting or dressing up a more casual gown. 
Cathedral: When you're looking for some drama, this is the length you'll love. Ranging from 122-144 inches long, these veils feel like royalty. They tend to be more formal and statement-making. This length is also known to elongate your frame.
Headpiece or Flower crown?
Using your dress as inspiration, you can play up the details of the dress. Are you going for an organic, carefree, ethereal feel? Look into incorporating natural elements like florals or greenery into your hairstyle. 
If you want to dress up the gown a little bit, try more beaded pieces or headbands. They'll add a little sparkle without being over the top! Or if the dress has a lot going on with beading and lace, try a metallic gold or silver option. It will add to the look without being too much. 
So how do you pick the perfect veil to compliment the perfect dress? With varying lengths and adding embellishments to the veil, you can elevate and add personality to the whole look! The first step is figuring out how you'll do your hair and that will help figuring out how to best accessorize it. Whatever style you choose, remember to be yourself.