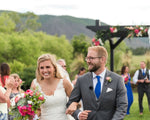 This morning we have a bright and beautiful wedding from earlier this summer to share with you! Tanna looked absolutely gorgeous in her Pronovias lace wedding gown; her infectious smile and her bouquet with bright peonies and succulents were the perfect accents. And can we talk about her long, flowing veil? Pair all of these touches with cobalt blue bridesmaid dresses, the most adorable ring bearers and  Crooked Willow Farms' big red barn and we're calling this day perfect. To see more flattering silhouettes, beautiful laces, and unique detailing on our Pronovias wedding gowns hop on over to our designer page! 
We'll let Tanna tell you a little bit more about her inspiration for the day... 
"For us it was about 3 things - food, drinks and music. The theme kind of evolved as we figured each of them out. We LOVE Mexican food and tequila. I wanted to find decor that would fit this theme while still be rustic and true to us. That's when I found a southwest style table runner. I truly got inspired by the vibrant colors and patterns — red, turquoise, green, and ivory. I started to think about how I could add on to this look and found some authentic cow skulls. I know weddings don't normally scream, skulls, but this was just what I needed for the decor to be complete. The flowers, succulents and cacti were the perfect accent pieces to really make everything come together." 
Congratulations Tanna & Taylor, we wish you all the best!