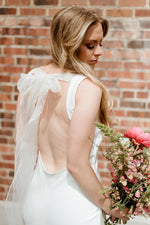 Wedding dresses are a beautiful must-have for brides, but given the fact that you usually only wear it once, this may raise environmental concerns. The good news is you can find a sustainable repurposed wedding dress, if you know where to look for it. 
But, first of all, it would be useful to try and define what sustainable actually means to you. Although there are very many factors to consider, a sustainable dress typically implies the carbon footprint, the money that was spent to produce it, and where it will end up after being used.
A good way to find such a dress is to research the brand. Thus, brands that use eco-friendly materials, fair labor practices, and transparent supply chains are your best bet. And a quick online search can reveal such information.
Also, when you find a dress you like, you should check its labels and certifications. You need to look for labels such as "organic," "fair trade," or "sustainable fabric."
Moreover, you should never be afraid to ask questions. You should reach out to the store and ask about sustainable practices. A good idea is to ask about the materials, the whole production process, and any kind of recycling initiatives.