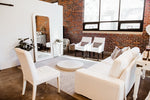 Shopping for your wedding dress can be a lot more fun than you think. For one thing, you can share your wedding dress experience with family and friends. Or you might even throw a bridal party, so that you can get all the essential emotional support that you may need during this important part of your life.
You can also get valuable help from the part of bridal consultants at Emma & Grace Bridal Studio, who know a large amount about different body types, styles, and designers, so they can guide you to find that perfect dress you always dreamed of.
We could definitely say that choosing your wedding dress involves self-acceptance and personal growth. At the same time, the anticipation of wearing your dress on the big day can add to the whole excitement thing, as the moment approaches.
Your dress can certainly reflect your cultural or family traditions, making it a symbolic representation of your values. Moreover, it can be a symbol of your commitment to your partner and how you imagine your future together.
The process of choosing your dress can empower you to make decisions about your wedding and express your personality, as it is a moment where you feel in control.