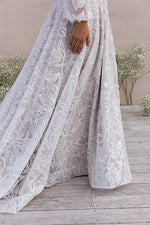 You can't beat the excitement of visiting your first bridal salon and trying on a bunch of amazing unique wedding dresses in preparation for your big day. As you do so, however, you'll find that some styles will definitely stand out, with the following being undoubtedly seen as some of the most unique and beautiful wedding dress styles to look out for:
Bohemian wedding dresses are inspired by the free-spirited and carefree lifestyle of bohemian culture. They often feature flowing fabrics, lace, and embroidery, and may have unique details such as fringe, tassels, or beads. Bohemian dresses are perfect for outdoor weddings, beach weddings, or any wedding with a relaxed and casual vibe.
If you're looking for a departure from the traditional white wedding dress, consider a colored wedding dress. Pastel shades such as blush, champagne, and light blue are popular choices, as well as bolder colors such as red or black. Colored wedding dresses are perfect for brides who want to make a statement or add a pop of color to their wedding day look.
Two-piece wedding dresses consist of a separate top and bottom, which can be mixed and matched to create a unique and personalized look. This style is perfect for brides who want to showcase their individual style and personality. Two-piece wedding dresses can feature a variety of styles, from crop tops and high-waisted skirts to flowy tops and tailored pants.