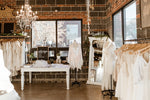 Going to a Denver wedding boutique for the first time can be truly exciting. And there are some details about what you can expect, and how you can make things easier. For example, you need to plan in advance, and, perhaps, schedule an appointment.
At the same time, it may be both fun and useful to bring a friend or a family member, because they can provide you with good advice. And because you will have to try out various dresses and shoes, you should wear comfortable clothes.
At any rate, you should always know how much you can spend, because this can help the boutique staff find the best products for you.
But it is not only about the money. You also need to be open-minded about different styles, because you may thus discover a dress that you would not have otherwise expected to like. You should also ask relevant questions, because the bridal salons Denver shop assistants provide help.
The boutique staff will also take your measurements in order to find the exact size. And, among other things, you should know that you are allowed to take pictures, and this can help you remember how you look in each of the dresses.