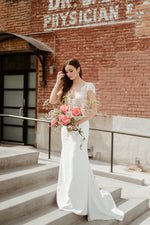 A Denver wedding boutique is not just a place to shop for a dress; it is a valuable resource that can simplify your wedding planning journey, enabling you to concentrate on what is most important – honoring your union.
The perfect dress - Let's start with the most significant piece of the wedding puzzle - your dress. Denver wedding boutiques offer an extensive selection of bridal gowns, ensuring you will find the one that fits your style and vision perfectly.
Expert guidance - Feeling overwhelmed with choices? Denver bridal consultants are here to help. They have a wealth of experience and can provide valuable advice on everything from dress styles to accessories.
Tailoring and alterations - Worried about alterations? Many Denver boutiques offer in-house tailoring services, ensuring your dress fits like a dream.
Unique finds - Want something truly unique? Denver boutiques often feature exclusive and locally made designs that are distinctive to this context.
Bridesmaid dresses – Don't forget your bridal party. Denver boutiques often carry a range of bridesmaid dresses in various styles, making it easy to coordinate the entire ensemble.
Accessories galore - From veils to jewelry to shoes, Denver wedding boutiques have a wide selection of accessories to complement your bridal outfit.
Peace of mind - Knowing that your dress is in the hands of professionals can bring peace of mind, reducing pre-wedding stress.
Local connections - Denver boutiques such as https://emmaandgracebridal.com/ often have connections with other local wedding vendors, making it easier to find photographers, florists and more.