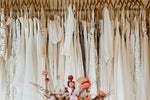 Your wedding day is approaching, and the excitement is building, but so is the nervousness. It can be tedious to look for the ideal wedding gown. Luckily, Denver's wedding dress shops are where nerves turn into excitement and dreams become reality. So, consider heading to the Mile High City and explore the best wedding dress shops. You will not only discover the gown of your dreams but also gain a sense of calm and confidence as you prepare to proceed down the aisle on your perfect day.
The Denver difference
The distinctive blend of natural beauty and urban sophistication defines Denver, and this extends to its wedding dress boutiques. Here's why shopping for your dream gown in Denver can help you banish those pre-wedding jitters:
Denver's best wedding dress shops offer a diverse range of styles, from classic and traditional to boho-chic and modern. No matter your taste, you will find the dress that speaks to your heart, or have a custom designed wedding dress made.
Denver's skilled bridal advisors are available to help you at every step. They understand your nervousness and will provide the support and expertise you need to select the ideal option.
Denver's wedding dress boutiques are often located in charming neighborhoods or historic districts, enhancing the magic of your shopping experience.
The best shops in Denver prioritize personalized service, ensuring that you receive individual attention and the opportunity to customize your dress to perfection.