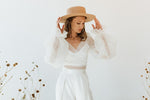 Your wedding day is your chance to shine, and if you are drawn to the free-spirited, unconventional style of Bohemian fashion, then a Boho wedding dress is the way to go. Choosing such a dress is all about embracing your individuality and celebrating the beauty of nature and free-spirited style. Keep these tips in mind and you will find the perfect Boho wedding dress.
Embrace the boho aesthetic
Boho fashion is all about free-flowing, natural fabrics and a relaxed, carefree vibe. Look for dresses made from lightweight materials like lace, chiffon, or silk. Think ethereal and effortless.
Embellishments and details
Boho dresses often feature intricate lacework, embroidery, or beading. These details add a touch of bohemian elegance. Consider a dress with floral appliques, fringe, or crochet for that perfect Boho flair.
Boho wedding dresses typically have loose, flowing silhouettes that allow for ease of movement. A-line, sheath, or empire waist designs are popular choices. These styles are comfortable and exude Bohemian charm.
While white is a classic choice for wedding dresses, Boho brides often opt for more natural, earthy tones like ivory, champagne, or even soft pastels. These colors blend seamlessly with outdoor and rustic settings.
Complete your Boho look with the right accessories. Floral crowns, beaded headpieces and vintage jewelry can enhance your Bohemian style. Barefoot sandals or suede boots can add a touch of whimsy.
Personalize your boho dress
Do not be afraid to customize your dress to make it truly yours, check out the amazing Boho wedding dress shop in Denver with a wonderful selection. Consider adding unique elements like a detachable cape, a slit, or an open back for a personalized touch.