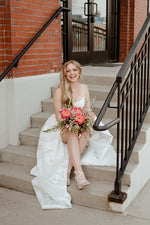 When it comes to what's in store when you visit one of the best bridal shops Denver has available, you can expect a truly exceptional experience. Here's what you can look forward to as you walk through the doors of a top-notch bridal boutique:
Expert Guidance: The best wedding dress shops in Denver have knowledgeable and experienced staff who are dedicated to helping you find the perfect dress. They will listen to your preferences and provide expert advice on styles that flatter your body type and suit your wedding theme.
Wide Selection: These shops curate a diverse and extensive collection of wedding dresses. Whether you're dreaming of a classic ballgown, a sleek mermaid silhouette, or a bohemian lace dress, you'll have plenty of options to choose from.
Customization Options: Many high-quality bridal boutiques offer customization services. This means you can personalize your dress by adding sleeves, changing the neckline, or selecting unique embellishments to make it uniquely yours.
Quality Fabrics: You can expect wedding dresses made from high-quality fabrics that not only look stunning but also feel comfortable to wear throughout your big day. The emphasis is on both aesthetics and comfort.
Accessories Galore: Denver shops often carry a range of bridal accessories, including veils, tiaras, jewelry, and shoes. You can find pretty much everything you need to complete your bridal look in one place.
Appointment-Based Service: To provide personalized attention, many top wedding dress shops in Denver operate by appointment only. This ensures that you have a dedicated consultant helping you and that you get the time and space to explore your options.