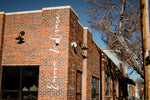 Planning your wedding and getting ready to explore a bridal boutique Denver area hosts? You're in for an exciting journey! Here's what you need to know to navigate a Denver wedding shop effectively:
Research Ahead of Time: Start by researching the wedding shops in Denver. Look for the ones that match your style and budget. Also, make sure to check their websites and social media for a sneak peek at their collections.
Appointments are Key: Most wedding shops in Denver operate by appointment only. You have to schedule appointments in advance to ensure you get personalized attention from the staff.
Bring Your Entourage Wisely: While it's tempting to bring all your loved ones along, a smaller group of trusted friends or family members can provide more focused feedback without overwhelming you.
Budget Awareness: Have a clear budget in mind and communicate it to the bridal shop staff. They can help you find dresses within your price range.
Try Different Styles: Be open to trying on various dress styles, even some of the ones you may not have considered in the past. What looks good on a hanger might surprise you when you wear it.
Comfort is Key: Pay attention to how comfortable you feel in the dress. You'll be wearing it for hours, so make sure it allows you to move, sit, and dance comfortably.
Accessories and Alterations: Inquire about accessories like veils, shoes, and jewelry. Additionally, ask about the possibility of alterations to ensure a perfect fit.
Ask Questions: Don't hesitate to ask questions about the dresses, fabrics, and any customization options. The staff is there to assist you.