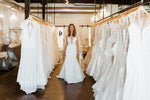 Planning your wedding is an exciting journey, and one of the most crucial decisions you'll make is choosing the perfect wedding dress. To ensure a smooth and memorable experience, it's important to be aware of some common problems that might arise. Let's dive into these potential hiccups and how to avoid them:
Waiting until the last minute to start shopping for your wedding dress can lead to stress and limited options. Begin your search at least 9-12 months before the big day to allow ample time for fittings and alterations.
It's easy to get carried away when you see a lot of stunning gowns, but staying within your budget is crucial. Set a realistic spending limit and stick to it to avoid financial strain.
Every bride is unique, and what looks great on one person may not suit another. Research your body type and explore dress styles that flatter your figure. Don't forget to consider comfort as well.
Even if you find a dress you love, it might need alterations for a perfect fit. Factor alteration costs and time into your budget and schedule.
While it's fun to bring friends and family along, too many opinions can overwhelm you. Limit your entourage to a few trusted individuals who understand your taste.
Consider your wedding venue when choosing a dress. A beach wedding calls for a lightweight, flowy gown, while a formal ballroom may require a more structured design. These details have to be accounted for, if you want a truly memorable wedding dress experience.  Working with some of the best like Emma & Grace Bridal Studio in Denver is recommended.